Living the Dream – Life as a Travel Photographer.
If you're like us, you dream about travelling the world, taking pictures of incredible places as your JOB. What an amazing way to earn a crust! Our friends at Heritage Expeditions have interviewed renowned Russian travel photographer and blogger, Sergey Dolya, so that we can learn more about his amazing trips.
Renowned Russian travel photographer and blogger, Sergey Dolya, knows a thing or two about adventure travel… and photography. Heritage Expeditions sat down with him to chat about his two expeditions to the Russian Far East with them – Across the Top of the World: Wrangel Island and Jewel of the Russian Far East: Kamchatka.
1) What were your highlights from these two expeditions?
My favourite experience from the Wrangel expedition was the day we spent on Koluychin Island. We had planned to do some birdwatching, but we instead encountered numerous Polar Bears. We spotted more than 60 bears here swimming, sleeping, climbing, teaching, learning, walking – and we even saw a mother nursing her two cubs!
Excerpt from my daily log: "We mainly saw females with cubs here. I don't think they gave birth in dens right on the island, but there is little ice and they came here from all over the Arctic so that the cubs could learn to climb rocks and grow up a little. We've seen such lessons several times. Mum climbs up the slope, stops and looks down at the cubs. The cubs try to emulate her, but don't always succeed. Some just give up in front of an obstacle and don't even try. Then the mother growls, turns around, goes down and once again shows the cub how to climb up. It's amazing how quickly and with apparent ease the bears climb up vertical cliffs.
In the wild, Polar Bears live an average of 15 years. Their main diet is seal, but they can also eat Walrus or the carcasses of whales that have washed ashore. Bears breed on the ice, and then head to land, such as Wrangel Island or Herald, where they arrange a den to give birth. Mothers stay with cubs for up to 30 months (almost three years) and take extra good care of their cubs. They may even sacrifice their lives for them."
My favourite memory from the 'Jewel of the Russian Far East' was when our Captain spotted an enormous Walrus haul out. The expedition team loaded everyone into the Zodiacs so that we could get a closer look. Some of the Walruses were swimming right next to our boats. They were very curious and were trying to push themselves up out of the water to get a better look at us. We had premium seats to the show!
2) Which locations or landings were new for you?
I've been almost everywhere in the Russian Far East. The Commander Islands (named after Commander Vitus Bering) was my last destination, so I was really happy to finally get here. We were really lucky with the weather and wildlife – so many wonderful photo opportunities and great memories, and the landscape is breathtakingly beautiful. We also had a biologist on the expedition team who had lived and worked on these islands for several years. We were privileged to get an 'insider's look' and explore like locals instead of tourists.
We enjoyed many very shore landings for walks along the coast. The scenic views here were a real treat, I love just meandering and exploring. I adopt a different rhythm on these adventures, and time seems to slow down. The arch in these photos is called Steller Arch.
The village of Nikolska in the Commanders is the only settlement on all four islands. Life here depends very much on the weather. The port operates year-round, but due to unpredictable weather, it's not always possible to get ashore. The airport here is even more unreliable. There are less than 1,000 residents in Nikolska. There's a school with modern desks and boards, a kindergarten and a hospital. And there's a large information center, where we learned all about the Commander Islands, that even houses a real Steller's Sea Cow skeleton!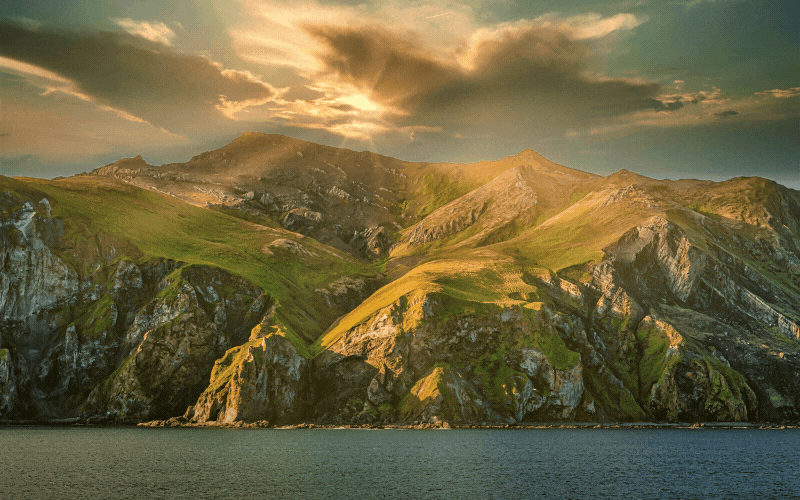 3) Was there anything that surprised you, something that you didn't expect on an expedition to this region?
Whale Bone Alley. Despite having explored this site before, it never ceases to amaze me – it's such a magical place, and each visit here brings new experiences with the flora, fauna and weather.
Excerpt from my daily log: "On a small Chukchi island several centuries ago (which, today we call Yttygran Island), the Chukchi constructed a whole alley of Bowhead whale jaw bones. The bones in the photo are from the lower jaw of a whale. Initially, there were about 120 bones (from 60 bowhead whales), but wind, rain, time and bad weather knocked down most of the spits. Now, only seven remain erect.
There are two main story versions for why the ancient whalers built such an alley here: religious-ritual and practical. A whole fan of ritual versions implies that the Chukchi came here from all over Chukotka to perform certain rituals. But as they had no written language, there is no way to confirm this.
I prefer the second version, which is about hunting. In this area, due to upwelling (when a cold current collides with a warm current and stirs up plankton and other living creatures to the surface), we find a high volume of whales. Whale hunting is challenging and hard work, and one cannot conduct a hunt alone. Previously, men hunted in "brigades" of several dozen people aboard canoes. Since the settlements were small, men would assemble from different villages to hunt together. At Whale Bone Alley, the bones were buried in such a way that canoes could be dried on them following a hunt."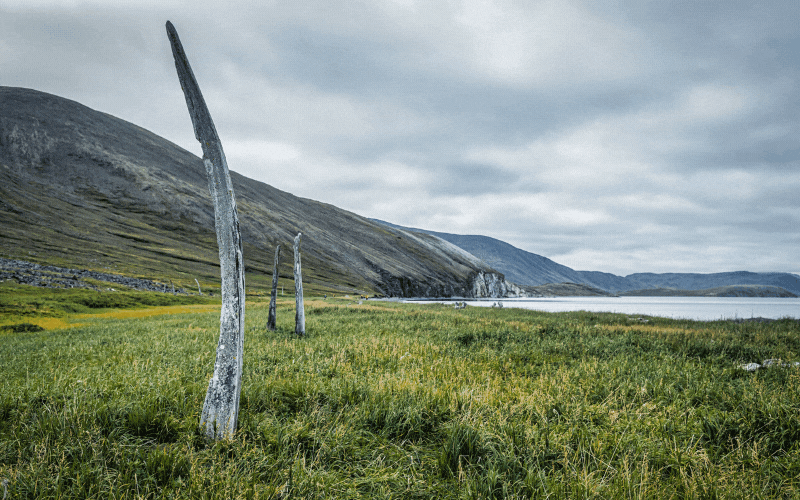 4) How would you describe your experience travelling with Heritage Expeditions?
This was my second time travelling with Heritage Expeditions. In 2016, I joined an expedition to Wrangel Island. I had such an incredible time, so I decided to join another voyage. It was pure magic again.
Heritage manages to show my country the way many Russians have never seen it. You can feel the love, respect and knowledge from the expedition team. The atmosphere that they create onboard the ship is very friendly and adventurous. You experience yourself not as a tourist or guest, but as an explorer and adventurer. Many of us had tears in our eyes as we disembarked the boat, and we still communicate via social media and are even planning new adventures together.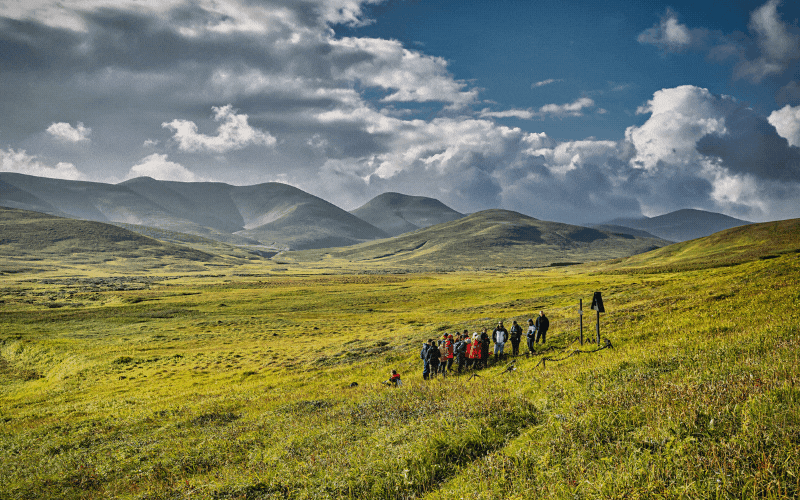 5) Do you have any advice for other travellers and photographers visiting the Russian Far East?
Expect the unexpected! The Russian Far East is a unique and very distinctive place on our planet. Very few people manage to get there. The scenery is a rare and spectacular sight and the wildlife encounters are phenomenal. A long lens or a pair of binoculars will definitely be your best friend on this voyage.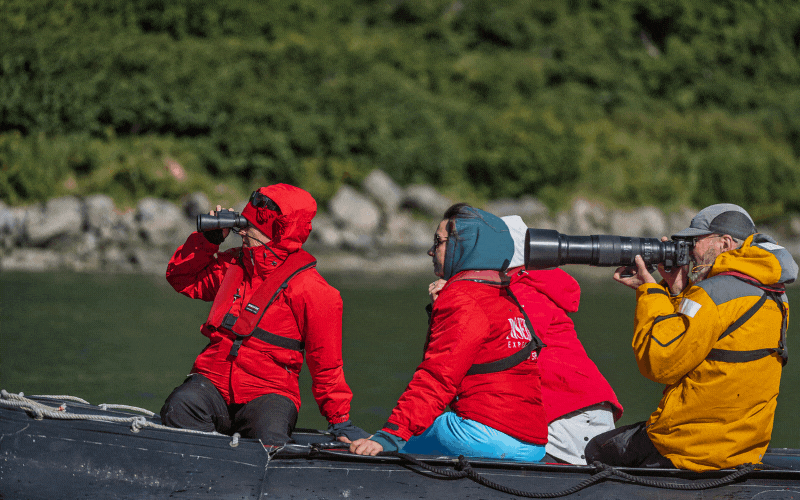 6) Is there anything else you'd like to share?
I bet that you can't remember all the trips you've been on over the past 10 years! We all travel a lot, it's difficult to remember everything. You do, however, remember your brightest and most emotional travel experiences. Heritage Expeditions' voyages to the Russian Far East are the ones that you'll remember on your deathbed as some of the happiest travels in your life!
Inspired to follow in Sergey's footsteps?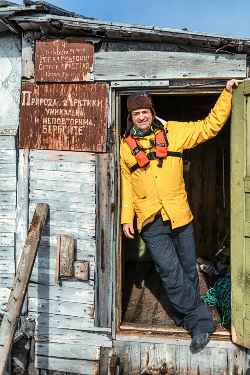 Sergey Dolya is one of the most renowned photographers and travel bloggers in Russia. He has visited 141 countries, including multiple expeditions in the Arctic and Antarctic regions, and was recognised by National Geographic Traveller magazine as Best Russian Travel Blogger. Sergey has also published three travel books and hosts a popular television travel show.
Photography by Sergey Dolya from Heritage Expeditions cruises – Article from the original blog – See here